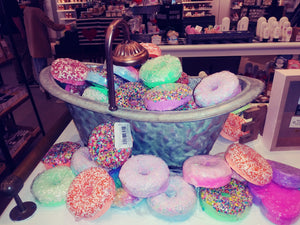 35 Assorted bombs plus free Shipping. Cost $8.00 each with this package cost $5.50 each. A savings of $2.50 each.  Hand pressed with epsom salt and shea butter. Our donut bath bombs will leave you smelling sweet and extremely soft. Relax or have fun, we have a bomb perfect for your tub time needs. This package allows you to see, smell and try.
Made with natural ingredients. May cause irritation. If you are sensitive it may be best to not be in the tub when it explodes but get in after. We are here to help. Call customer service if you have any questions. 1-877-481-4334.
Brands:
Cotton Candy, Margarita, Fizzy Pop, Guava, Cantaloupe, Watermelon, Pear, Unicorn, Lavender Fizz, Coconut, Juicy Peach, Mai Tai, Pineapple Whip, Rainbow
 All sales are final
We also make shower steamers.